Get in Your Element this September—sign up for a library card! September is Library Card Sign-up Month, a time when the American Library Association and libraries nationwide join together to remind parents, caregivers, and students that signing up for a library card is the first step towards lifelong learning. Sign-up today! 
"Libraries play an important role in the education and development of children," says OPL Executive Director Laura Marlane. "We have library programs that serve students of all ages and backgrounds, such as storytimes, book clubs, escape rooms, teen advisory board, and more."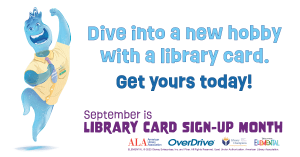 From borrowing books, e-books, and partnership passes to getting homework help, learning new skills, or attending storytime, a library card helps you do more of what you enjoy. Get a library card and dive into a new hobby. Use your library card to tinker in a maker space and spark your creativity. A library card is your most important school supply—it's elemental, really—and everyone should have one!
OPL, along with libraries everywhere, continues to adapt and expand services to meet the evolving community needs. To sign up for a library card or to learn more about the library's resources and programs, please visit your neighborhood branch or omahalibrary.org.
Check out these top ten reasons for having a library card:
Books: Access all the books in all the formats (eBook, audiobook, large print, Playaways, etc.)!
Librarians: These friendly folks are happy to help connect you with everything from your next favorite book to where to find voter information.
Branches: There are 13 OPL locations throughout Omaha. You may also visit OPL's virtual branch omahalibrary.org for the most current information and to connect with resources. 
MyOPL: Your library account allows you to place and manage items on hold, and designate a branch for convenient pick-up. You may also create bookshelves to help track your reading, and read and share reviews for other readers. MyOPL is available as a mobile app through the Apple App Store or Google Play.  
Music: Download up to four free songs per week using Freegal – and they are yours to keep! You can also stream up to three hours of music per day.
Movies: You can check out DVDs at all 12 OPL locations, and access thousands of movies for free with 10 monthly credits on Kanopy.
Online learning resources: Gale Courses, LinkedIn Learning, LearningExpress, Mango Languages, Tutor.com are just a few of the great learning tools available through omahalibrary.org.
Research resources: Access Omaha Star and Omaha World-Herald digital archives, and many other family history research tools.
Partner passes: When available, check out free entry passes to Heartland B-cycle, Fontenelle Forest, Lauritzen Gardens, The Durham Museum, Omaha Children's Museum, and Omaha's Henry Doorly Zoo and Aquarium.
There are many more reasons to love your library. Visit your library to see what's new and take part in the celebration. And if you already have a library card, make it your mission to get a friend or family member to sign up for their library card in September!