Each year, Omaha Public Library encourages the community to join together in reading one book as part of Omaha Reads. Omaha Reads promotes literacy and provides the City with a common theme to discuss. One book is selected through a public vote and promoted through book talks, author visits, and related programs.
2020 | "After the Flood" by Kassandra Montag
"After the Flood" is a debut novel imagining a future in which flood waters have progressively destroyed America as we know it, leaving only mountaintop communities surrounded by water. Myra and her 7-year-old daughter Pearl have learned to survive, mostly by remaining fiercely independent, free from untrustworthy relationships. When Myra learns that her other daughter may still be alive, she will stop at nothing to find her.
"We live in a community of readers who appreciate and want to celebrate local authors," said OPL Executive Director Laura Marlane. "We share in that enthusiasm and look forward to generating more discussion around 'After the Flood.'"
2019 | "This Blessed Earth: A Year in the Life of an American Family Farm" by Ted Genoways
"This Blessed Earth" follows the Hammond family as they navigate the ever-changing landscape of modern farming, exploring how one family struggles to preserve a fifth-generation family operation in the face of shifting trade policies, encroaching pipelines, climate change, and more.
"[The 2019] Omaha Reads selection [was] especially impactful because it [was] also the 2019 'One Book One Nebraska' and 'All Iowa Reads' selection, providing our community with even more opportunities to discuss the book and explore its different themes," said OPL Executive Director Laura Marlane.
2018 | "The Hate U Give" by Angie Thomas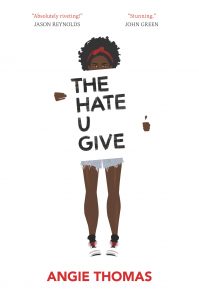 "The Hate U Give" is the fictional story of 16-year-old Starr Carter and how her life changes after being the only witness to her friend's death at the hands of a police officer. This award-winning novel addresses a variety of themes, including racism, community, family, justice, friendship and identity.
OPL worked with a variety of community partners to provide opportunities for people to gather and talk openly about the book's challenging themes in respectful environments throughout the city. More than 370 people attended these events.