Each year, Omaha Public Library encourages the community to join together in reading one book as part of Omaha Reads. Omaha Reads promotes literacy and provides the City with a common theme to discuss. One book is selected through a public vote and promoted through book talks, author visits, and related programs.
No related upcoming events.
"Braiding Sweetgrass, opens a new window" by Robin Wall Kimmerer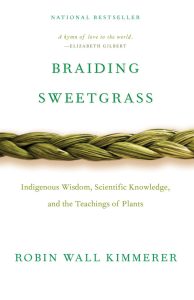 Drawing on her life as an indigenous scientist and as a woman, Kimmerer shows how other living beings―asters and goldenrod, strawberries and squash, salamanders, algae, and sweetgrass―offer us gifts and lessons, even if we've forgotten how to hear their voices. She believes that only when we can hear the languages of other beings will we be capable of understanding the generosity of the earth, and learn to give our own gifts in return. 
"This year's title asks readers to examine their relationship with the world surrounding them," said OPL Executive Director Laura Marlane. "We look forward to discussions and programs designed to help readers explore some of the prominent themes presented in this book."
Omaha Reads Past Selections