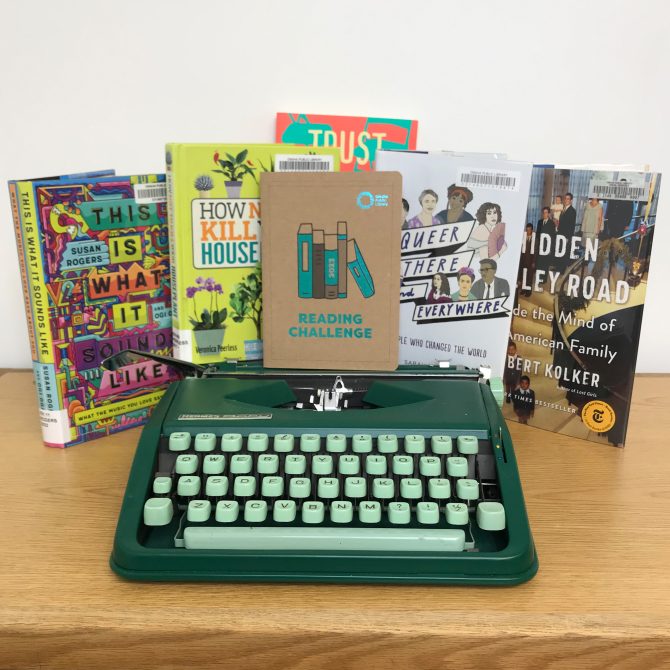 The Omaha Public Library (OPL) Reading Challenge is back! OPL staff have created a series of reading challenges to push you outside your reading comfort zone and into new literary realms. Take on one challenge each month or complete them on your own timeline. Finish all 12 to qualify for a prize!
How it works:
Read or listen to a book for each of the 12 challenges.
Track your reading in your Reading Challenge notebook

, opens a new window

and complete the log sheet on the final page, or download one here

, opens a new window

.
You may submit your entries online

, opens a new window

 or bring in your printed sheet to any OPL branch by December 31, 2023, to receive a pin and to be entered into a drawing for a book store gift card!
As you read through the challenges, share what you're reading on social media and tag @omahalibrary on Facebook, Twitter, opens a new window or Instagram, opens a new window.
If you have any questions about the Reading Challenge, contact readingchallenge@omahalibrary.org.
2023 Challenge
Read a book mentioned on The Book Drop

, opens a new window

Suggested titles

, opens a new window

Read a book about or featuring a real person
Suggested titles

, opens a new window

Read a book about or featuring LGBTQIA+ history
Suggested titles

, opens a new window

Read a book about or featuring plants
Suggested titles

, opens a new window

Read a book about or featuring a movie or TV show
Suggested titles

, opens a new window

Read a book by a Latine writer
Suggested titles

, opens a new window

Read a book about or featuring friendship
Suggested titles

, opens a new window

Read a book about or featuring mental health
Suggested titles

, opens a new window

Read a book about or featuring music
Suggested titles

, opens a new window

Read a book from OPL's Top Shelf

, opens a new window

lists
Suggested titles

, opens a new window

Read a book by a Black writer
Suggested titles

, opens a new window

Read a book about or featuring food
Suggested titles

, opens a new window