The eighth annual Read It and Eat Culinary Conference dove into the world of dairy and dairy alternatives, featuring local purveyors of delicious cheese, milk, ice cream and dairy alternatives. Over 116 people made their way to the fourth floor of the W. Dale Clark Main Library on Saturday, Nov. 3 to learn about and sample various forms of dairy.
The day began with a ricotta cheese-making demonstration from Chad Lebo of Cure Cooking. Lebo brought samples of both sweet and savory ricotta cheeses and explained how to adapt his recipe to create either version. Continuing on the topic of cheese, the next event featured a panel discussion with local cheese producers Janna Feldman of Doe's & Diva's Dairy Inc. and Sharon Oamek of Honey Creek Creamery.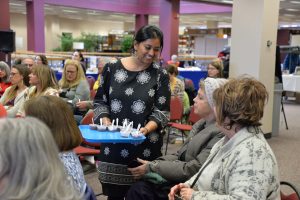 Following a cheese sampling, the next group of panelists discussed dairy and dairy alternatives. Participants included Lisa Burbach of Burbach's Countryside Dairy, Lisa Purcell of Myrtle & Cypress and Katie Townley of Modern Love Omaha. Attendees learned about the process of dairy making, the health benefits of dairy alternatives, and the creative ways that Modern Love has replaced dairy in their vegan restaurant.
The conference ended on a sweet note, with an ice cream demonstration by Abby Jordan of eCreamery and a panel discussion featuring ice cream and gelato makers Suzi Bonnett of Chocolaterie Stam, Feldman of Doe's and Diva's, Jordan of eCreamery, Oamek of Honey Creek Creamery, Amy Lea Green of Ivanna Cone and Jeannie Ohira of Ted & Wally's. Samples included a rich chocolate and seasonal pumpkin ice cream, a strawberry sorbet and ice cream cookie sandwiches.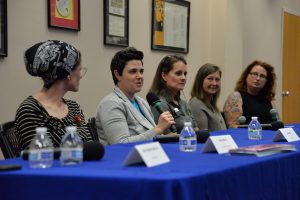 Special thanks to the conference presenters, the Omaha Public Library Foundation and Friends of Omaha Public Library for their support, and to Lois Friedman, who gave the opening remarks for the conference.
If you weren't able to attend the culinary conference, OPL has a variety of books on all things dairy available for patrons to check out.
View more photos from the 2018 Read It and Eat Culinary Conference.