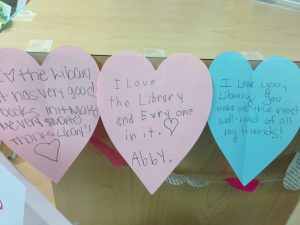 As couples prepare to woo each other with flowers, chocolates, jewelry and more, Omaha Public Library is ready to woo you to our branches for our Valentine's Day programsopens a new window scheduled between Feb. 6-14, items to help you prepare for the holiday or for all things love-related in our collection!
Read about love, create gifts and cards for loved ones, and celebrate Valentine's Day at OPL:
Kids can explore STEM principles during a Light-Up Cardsopens a new window workshop on Feb. 6 from 3-4 p.m. at Millard Branchopens a new window (registration required). Or, bring the whole family to create Yarn Heartsopens a new window at A.V. Sorensen Branchopens a new window on Feb. 7 from 5-6 p.m.
On Feb. 13, A.V. Sorensen Branchopens a new window will host a Tiny Tots Valentine's Day Partyopens a new window and W. Dale Clark Main Libraryopens a new window will present a heart-themed Preschool Storytimeopens a new window.
Teens won't want to miss the chance to eat chocolate, watch movies, and hang out with their friends at the library! The biweekly Teens Chat & Create program at W. Dale Clark Main Libraryopens a new window will host a special Valentine's Editionopens a new window on Feb. 8 pondering the question, "To Valentine or not?" On Feb. 14, teens ages 10-16 are invited to a Chocolate Tastingopens a new window at South Omaha Libraryopens a new window, where they'll sample and learn about different kinds of chocolate. Teens are also welcome on Valentine's Day to enjoy snacks and a Movie Nightopens a new window with their friends beginning at 6 p.m. at Milton R. Abrahams Branchopens a new window.
Fall in love with books, movies, music and more related to Valentine's Day in OPL's collection:
OPL's catalog is full of items that have to do with Valentine's Day! Search our collection for "Valentine's"opens a new window and see that 526 books, movies, music items and more are available for you to check out. There are also over 2,500 items (including 126 DVDs and Blu-Ray discs) for kids and teens in a search for "love."opens a new window
For a roundup of our staff's best-loved Valentine's reads for kids, check out our Omaha Picks: Valentine's Dayopens a new window booklist!
Our specialists also created the following books lists for teens: 
We also have several books on Valentine's cards, crafts and recipes that can help you and your kids feel the love this month! Check out the books on this list of Valentine's Day Crafts for Kidsopens a new window for ideas to create handmade Valentine's Day cards, gifts and treats.
Making a mixtape or playlist to show that special someone how much you care? Download four songs from Freegal Musicopens a new window each week for free! All you need is your OPL card to claim your free tracks!
Parents out there can enjoy some of the reading options our specialists put together in these fun book lists: