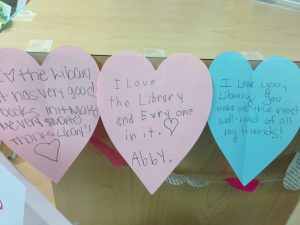 As couples prepare to woo each other with flowers, chocolates, jewelry and more, Omaha Public Library is ready to woo you to our branches for our Valentine's Day programs scheduled between Feb. 9-16, items to help you prepare for the holiday or for all things love-related in our collection!
Read about love, create gifts for loved ones or celebrate the aftermath of Valentine's Day at OPL:
Five branches will host Valentine's Day Storytimes, some for all kids, and others specifically for kids for birth-5. View the storytime schedule here.
Charles B. Washington Branch is hosting a Valentine's Day Bird Feeders activity on Feb. 14 from 4-5 p.m. where kids can create heart-shaped bird feeders to gift or hang in their yards. Millard Branch is also hosting a fun event exploring Candy Science on Friday, Feb. 16. Kids will learn about sinking, floating, osmosis, and solubility with some popular Valentine's Day candies. Registration is required, call Nancy at 402-996-8037 or email nnovotny@omahalibrary.org to register.
Teens who are just excited for the holiday to be over can join us at the Milton R. Abrahams Branch on Thursday, Feb. 15 from 6:30-8 p.m. for a post-Valentine's Day celebration featuring crafts, games, food and beverages.
Fall in love with books, movies, music and more related to Valentine's Day in OPL's collection:
OPL's catalog is full of items that have to do with Valentine's Day! Search our collection for "Valentine's" and see that 659 books, movies, music items and more are available for you to check out. There are also over 3,000 items (including 147 DVDs and Blu-Ray discs) for kids and teens in a search for "love."
Kris Cram, Teen Specialist at Sorensen Branch, also created the following books lists for teens: 
We also have several books on Valentine's cards, crafts and recipes that can help you and your kids feel the love this month! Check out the books on this list of Valentine's Day Crafts for Kids for ideas to create handmade Valentine's Day cards, gifts and treats.
Making a mixtape or playlist to show that special someone how much you care? Download four songs from Freegal Music each week for free! All you need is your OPL card to claim your free tracks!
Parents out there can enjoy some of the reading options our specialists put together in these fun book lists: