Omaha Public Library (OPL) will introduce a new Mobile Library vehicle to its community on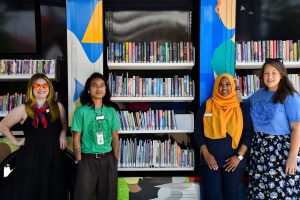 Tuesday, August 8, 10:30 a.m., during Out & About Storytime at the Gene Leahy Mall, 1302 Farnam Street. Join us for fun stories, creative movement, music, and more. Following storytime, patrons will have the opportunity to check out the new pop-up Mobile Library, nicknamed "Poppy," and everything it has to offer.
The 2019 Ford Super-Duty F550 4x4 was purchased from Matthews Specialty Vehicles in Greensboro, North Carolina, with the intent of expanding OPL's reach in its community and providing increased access to materials and resources. The vehicle features library collections on shelving hidden behind doors that roll up when the vehicle is parked. There are also two display screens to present information on upcoming library events or resources. Poppy comes equipped with Wi-Fi, and a built-in microphone and speaker system. All electronic display components are powered by solar panels on the roof.
"This vehicle will be used to provide outreach to a variety of communities," said Outreach & Partnerships Manager Maggie Petersen. "Our goal is always to bring OPL's materials, tools and resources to people that need them. The Mobile Library will allow us to service areas of the city that are not geographically close to a branch location, populations who struggle to find transportation to a library, and otherwise underserved communities. Additionally, the Mobile Library will allow us to bring a visible library presence to community events."
OPL is grateful to the generous donors who helped fund this project through their contributions to the Omaha Public Library Foundation, including the Claire M. Hubbard Foundation, Cox, and Karen and Jim Linder.
Learn more about OPL's outreach efforts at omahalibrary.org/partnerships-outreach, opens a new window.