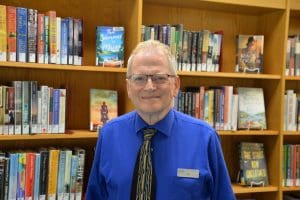 John Carlotto has been a librarian for nearly 20 years. He joined OPL in 2009 after spending six years as a reference and instruction librarian at Bellevue University. When arriving at OPL, he was struck by how different public libraries are from academic libraries. Carlotto was used to people asking for information about how to use the library, and often helped students working on their MBA to find business resources. At OPL, he quickly learned that he could be asked about anything and everything.
Perhaps the questions that delighted him most in his time at OPL were those related to music. Music is Carlotto's passion and has been since he first picked up a saxophone in the fifth grade as a student in Millard Public Schools. Upon graduating high school, Carlotto enlisted in the U.S. Army, and after completing basic training, auditioned for the Army band and attended a six month music course at the Naval School of Music. He completed his enlistment in Monterey, California.
Following his military service, Carlotto pursued his education in music, completing a bachelor's degree in musical performance: saxophone at Hastings College, and a master's degree in the same area of study at the University of Northern Colorado. Carlotto toured and performed with several bands over the years, and when he was ready to "settle down," he pursued a master's degree in library science from the University of Wisconsin – Madison.
While working at OPL, Carlotto was responsible for collection and reference work, and also for curating and developing subject information related to technology and community resources. He worked at W. Clarke Swanson Branch, W. Dale Clark Main Library, Milton R. Abrahams Branch, and Bess Johnson Elkhorn Branch. Carlotto retired from OPL on November 24. Though he is very much looking forward to retirement filled with good music and good friends, he said he will miss the people he's worked with the most. "It's been a blast," said Carlotto, and he expects that he will continue to see some of his former colleagues at his gigs.
"John has been a pleasure to work with over the years," said Elkhorn Branch Manager Casey Kralik. "He is always courteous and willing to help staff and patrons, and takes such delight when anyone asks him about music or his band. He is a great guy and will be missed."
On behalf of OPL patrons and staff, we are grateful to Carlotto for his service to the community and we wish him many happy years doing what he loves.