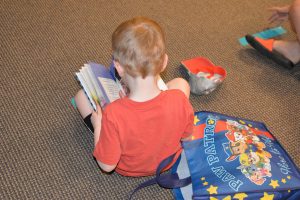 Youth ages birth through 15 with applicable fines and fees can clear their library record while spending time reading. Youth may read at home or school and log the hours via the Read Off Your Fines reading log If a child is too young to read independently, parents may count time spent reading to their child. Reading times at Omaha Public Library can be found here.
Completed program logs can be returned to any Omaha Public Library location. Each hour spent reading earns credit for $5 in fines and fees. The minimum reading time for a waiver is 15 minutes, for a credit of $1.25.
A maximum of $10 in fines and fees may be waived monthly. Read Off Your Fines waivers do not include collection agency fees, Interlibrary Loan fees, Bestseller Express fees, Metro Community College fees, research fees or future overdue fines.
For more information contact Jessica Johnson, Borrower Services Manager, at jjohnson@omahalibrary.org.