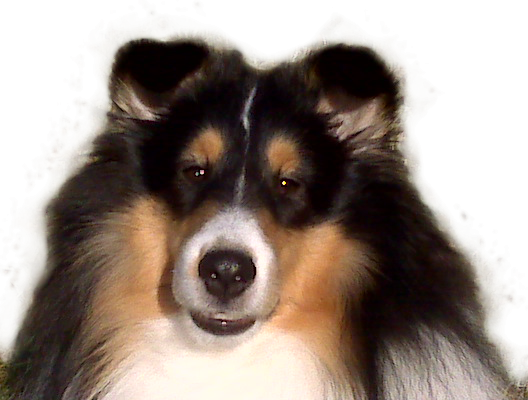 "I was there the day he came out," Dianne Krantz said of her beloved Shetland Sheepdog, Devon. Thus began a lifelong bond between the newborn puppy and his owner-to-be. In 2007, Krantz helped deliver the litter of Shelties that included Devon, and soon afterward, chose one to take home. "He had the temperament that I liked," she recalled.
As it turns out, she had good instincts about his demeanor, as well as his potential. Devon went on to earn many obedience and sheepherding titles, and other accolades over the years, including being a Grand Champion show dog. He trained to be a therapy dog, and also underwent training to be a Reading Education Assistance Dog (READ), which is how he and Krantz became acquainted with OPL Youth Services Librarian Katy Lofgren, a self-proclaimed dog lover who wanted to start a READ program at Willa Cather Branch. Lofgren reached out to Krantz in October 2010, and soon Devon began listening to children read every Tuesday night.
The READ program aims "to provide a safe, calm, comfortable, non-threatening environment for kids to practice their skills," said Karen Burns, the assistant director of Intermountain Therapy Animals (ITA), whose organization founded the program over 20 years ago. "Some kiddos get very overwhelmed and anxious about trying to read in front of people because they know that they're going to be corrected," Lofgren explained, "but a dog doesn't [do that]."
Devon seemed to have a knack for gauging situations. "[That was] my favorite thing with Devon," Krantz said. "He seemed to know which ones to interact with and which ones just to sit there and let them initiate contact. That's just a special animal to be able to understand humans that way."
When Devon began at Willa Cather Branch, one of his first readers was Max Hernandez. "This is the best day of my life," Max exclaimed as he arrived to meet Devon for the first time. From then on, he constantly asked his mother, Priscilla Hernandez, if it was Tuesday yet—time for his weekly session.
"Max looked forward to going to the library to see and read to Devon," said Priscilla. "He didn't really read a lot, but because of Devon, he wanted to read."
In June 2012, Dianne and Devon received the Eastern Library System's annual Going the Extra Mile Award. In his letter of support, former OPL Executive Director Gary Wasdin called the Read with Devon program "one of the most valuable service programs [OPL] offers," adding, "The work that Dianne and Devon do is life-changing." At that time, the duo had completed 271 one-on-one reading sessions with children in the community. By March 2019, the pair had accumulated over 400 visits, making Devon eligible for the American Kennel Club (AKC)'s highest honor: AKC Therapy Dog Distinguished.
Devon discontinued his library visits amid the pandemic in 2020, but remained physically active until his passing in January at age 14. He touched many lives, and the news of his death prompted library workers and patrons to share fond memories of the dog and his handler.
"Devon was a beautiful soul who brought light and love to all those he encountered. He made a lasting impression on so many children and their families who were thankful for his years of patient listening," said Charles B. Washington Branch Manager Amy Wenzl.
"Devon was so sweet with the kids here at [Millard Branch] and so many kids were avid repeat readers with Devon," said Youth Services Librarian Melanie Webb. "I know this program impacted the kids in more ways than just improving reading skills, and I am so sad that I won't see Devon again."
Max, who first read to Devon over 10 years ago, will soon turn 18, and Priscilla still has a picture of Max and Devon reading together on the wall, and called the dog an amazing friend. "Every day we pass that picture of Max and Devon in our hallway," she said. "Devon will always be in our hearts!"
It's possible that one of Devon's offspring will be able to continue his legacy, including Violet, whom Krantz is currently training. "I'm hoping that Violet will be able to follow in her daddy's footsteps but we will have to wait and see," Krantz said. Despite this hope, one thing is clear.
"She's not Devon," Krantz said. "I don't think there ever will be another Devon."
Lofgren agreed. "I seriously have never met another dog like Devon," she said. "He was truly one of a kind."
OPL would like to thank Devon and Dianne for their many hours of service and their years-long commitment to reading and literacy in our community.
The "Read to a Dog" program has not been held since the onset of the pandemic in order to maintain physical distancing guidelines. The program will continue when in-person programming resumes, so long as there are children who would like to read and dogs who would like to listen. View a schedule of online storytimes and events, opens a new window.