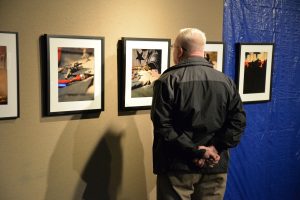 Exhibition: "Love Letters"
Artists: Peter Fankhauser & Bert Leaverton
Dates on display: Nov. 2-Dec. 30
View photos from the opening reception of "Love Letters" on OPL's Flickr page, opens a new window.
In "Love Letters," Bert Leaverton and Peter Fankhauser work to assess and codify the physical and psychological fallout of conflict and the footprint it leaves behind. Through a common language of appropriated materials, both artists examine the role escalating global conflict plays in disrupting notions of stability by presenting work that looks at patterns of displacement and lasting psychological trauma. 
Leaverton's photographs depict dioramas created in her studio that relay memories of her "boots on the ground" deployment in Iraq. Processing these scenes has become an integral component in managing the diagnosis of Post Traumatic Stress Disorder that she, and many other veterans, manage daily. Alongside her work, Fankhauser creates video and site-specific installation to reference the ways in which populations were displaced and resettled during and after the Iraq war, as well as his own (mis)remembering of events that led up to it. 
Artist Statements:
Peter Fankhauser: TV brought me up--music on television, film on television, television on the Internet. That appetite to watch and listen leaves me wondering whether content is explicitly linked to the mode of representation as the distinctions that characterize individual media become more porous and permeable. Do time and distance that separate us from the historical context of the story's original telling make it less true? Do historical fictions become more real with each new iteration? And how has new media created a space for the continuation of unsettled oral histories and shifting contemporary mythologies?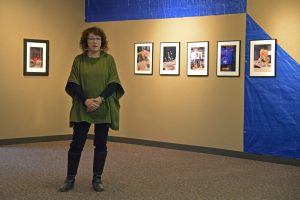 Bert Leaverton: It wasn't until after I returned from a deployment to Iraq in 2004 that PTSD, (Post Traumatic Stress Disorder) became a part of my everyday way of life. I had my own personal issues with this deployment but focused on the positive, the humbling experience of serving and helping the Iraqi people, especially the children.
I had kept a journal while in Iraq which along with my camera became the closest thing to my soul while in country. It was in my journal that I could document the ugliness of war along with the pleasantries, while remaining focused on our mission.
Returning to work in the United States, I attempted to "choke out" a fellow coworker who had entered my physical space, my aura. I literally blacked out to my surroundings! My boss pulled me aside, quietly saying, "I think you need help." I came home with two arms, two legs, a whole body but yet I wasn't the same. I had changed. I did need help. I was too ashamed to ask because others, generations before me were in much worse condition than I.
Eventually I sought out treatment and was diagnosed with PTSD. I completed several coping skills groups, coed and also female only. Still something was missing and even though I remained involved in an alumni group to this day, I could not figure out what laid so heavily on my mind.
My world came crashing down in 2010 when I lost my job due to a buy out. Shortly afterwards, a repressed memory of a military sexual assault surfaced as I had seen my assailant in a commercial on TV. I went into a deep state of depression, not wanting to believe this happened to me 31 years prior. I wanted to harm this person for what they had done to me but instead harmed myself. I became a recluse, destroyed relationships, abandoning family, and eventually self medicating to sleep.
With no job I sought out returning to college for a degree in Photography. It was exactly what I needed as I could do this on my own and yet remain in the darkness that seemed to overshadow me daily. My final portfolio, I decided to focus on my tour of duty in Iraq, recreating my year of boots on ground. I never realized that this series of photography was actually helping me to heal, to be a better person. The countless hours spent alone in my basement, creating dioramas whether surreal or displaying a piece of me in the images were truly my art therapy, my process of healing a combat Veteran with PTSD.