April
Beth
Breanne
Elizabeth
Judy
Karen
Lynn
Maggie
Mark
Matt
Megan
Melanie
Naomi
Paul
Stacy
Teresa
April
April's favorite things to read are non-fiction books about gardening, cooking, inspiration, travel, and how-to. She reads some fiction, usually for her many book clubs or for relaxing at the end of the day. She loves book clubs, which is important because she is the Book Club Coordinator for the Omaha Public Library and started the Library's first foodie book club. She loves to try new things and has embarked on many adventures, including silversmithing and volunteering on an organic farm. Her secret dream, however, is to travel the world, eat exotic food and meet many people of other lands.
---
Beth
Beth used to be the Branch Manager of the W. Clarke Swanson Library. She is passionate about U.S. history and will often quiz friends and family with facts she is convinced everyone should know. Naturally, she loves reading historical books and biographies. In her free time, she enjoys fishing with her husband, baking, and traveling.
---
Breanne
Breanne's favorite authors are Neil Gaiman, Maggie Stiefvater and Jeffrey Eugenides, with YA fantasy/horror being her genre of choice. She enjoys knitting all kinds of things: socks, hats, scarves, sweaters for dogs, and sweaters for people. When she grows up, she wants to be like Rainbow Rowell.
---
Elizabeth
Elizabeth is the Serials Clerk at W. Dale Clark Main Library as well as a Library Assistant for Metropolitan Community College at South Omaha. When she isn't working she spends her time chipping away at an immense to-read list, writing fiction and poetry, going to the movies, listening to music and trying not to trip over her four cats.
---
Judy
Judy enjoys reading just about anything, resulting in numerous stacks of books piled in front of the fireplace that appear to have no rhyme or reason. Convinced she has the best job in the library, Judy's days are happily spent choosing movies, music, eBooks, and nonfiction books to add to the library collection. When not working or reading, she enjoys discovering new restaurants, traveling, and photography.
---
Karen
Karen is the branch manager at the Benson Branch of the Omaha Public Library. She tends to pick up cross-genre fiction, memoirs and cookbooks most often, and has a good ear for the best audiobooks. Her current favorite activities include tart-making and knitting at local bars. Though she has little musical aptitude, she dreams of one day playing in a cover band.
---
Lynn
Lynn is a fixture at W. Dale Clark Library – yes, she's that old! She is usually researching some bit of trivia in the Nebraska Reference Collection or fixing a problem in the microfilm room. Her favorite pastimes are reading (of course!!), making fruit jams and touring historic houses.
---
Maggie
Maggie has worked in libraries for over 25 years, most currently in administration.  She loves reading mysteries, biographies and new age titles.  When not browsing reading lists, she may be found delving into family history, attending track and cross country meets with her family, or sipping wine and craft beer (but not together!)
---
Mark
Mark can usually be found near a perilously large stack of books at the W. Dale Clark (Main) Library. He hoards historical nonfiction, reads poetry he lacks the skill to write, covets cookbooks, and enjoys a touch of the surreal in his fiction – Borges, Gene Wolfe, Bruno Schulz, and so on. If he's not currently at work, he's probably rattling around somewhere with French horn or spatula in hand.
---
Matt
Matt is a Librarian at W. Dale Clark Main Library, where he sings silly songs with preschoolers and challenges teens to Mariokart races. He used to like to read stories that take place in the American West but lately he won't read anything but spy novels. Matt has been trying to learn to paint, speak Spanish, and run a marathon for most of his adult life.
---
Megan
Megan is an adult services librarian at the W. Dale Clark Library where she spends her time answering reference questions and sharing library resources with community organizations. She loves non-fiction, especially anything involving food, and has a soft spot for historical fiction, cross-genre fiction, and young adult titles. When not working or reading she loves to eat great food, run on the streets and trails of Omaha, and travel as much as she can.
---
Melanie
Melanie likes to have a good mix of fiction, mystery, young adult and non-fiction books at the ready and is often in the middle of 2-3 books at a time. She answers reference questions and plans programs for adults at the Millard Branch. When she's not at work or reading, she's watching movies with her husband or spending too much time online and on social media (usually searching for her next great read). Someday, she's going to learn how to knit.
---
Naomi
Naomi used to be a young adult specialist at the Bess Johnson Elkhorn Branch. She dreams about spending more time outside, especially on a bike. She enjoys nonfiction books about social issues and trying to keep up with the latest YA books-turned-movies.
---
Paul
Paul is a teen librarian at the Millard Branch of the Omaha Public Library. He tends to pick up and read brand new teen fiction books. His current favorite activities include running, reading, church, and spending time with family and friends.
---
Stacy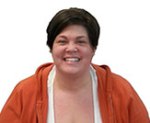 Stacy is a library aide at the W. Dale Clark Main Library. She is an avid reader and has a to-read list about 150+ titles long. She loves to review new books she receives through Librarything and Goodreads. When Stacy isn't reading she loves to spend time with her family and bake or craft something new she's found on Pinterest.
---
Teresa
Teresa has been working in libraries for over 30 years. She enjoys reading, quilting, puzzles and her three grandchildren. Her husband says she reads fifty books a day, which may be an exaggeration. Her favorite books are mysteries, cookbooks, suspense and almost anything that is in print.