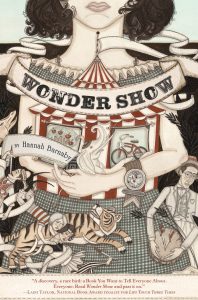 Portia's mother left her when she was very young. Her father left her at age 9 in the care of her aunt and now, her aunt is dropping her off at the McGreavey Home for Wayward Girls under the direction of a man mostly referred to as "Mister." It's a bleak place; the girls are forced to work for the creepy Mister in either the orchards or sewing mail-order uniforms.
All along Portia cannot stop thinking about her father. Is he wondering where she is? After a tragic event at the home for girls, Portia can't take it anymore and decides to escape on a mission to find her father. Her father loved circuses and she just so happened to have stumbled upon the schedule of a traveling circus nearby.
She meets up with the circus and after a trial with the "boss," she is allowed to stay on to help on the bally, advertising the show to attract a crowd.
She becomes acquainted with the "freaks" and the "normals" of the circus and learns the way they interact with each other in life on the road. There's no shortage of captivating characters in Barnaby's book. The author does a great job following Portia's story while introducing us to these characters as Portia learns their history and stories.
Reading about Portia's life on the road, the reader may wonder – Is Portia's past really behind her. Has she escaped Mister forever and will she ever find her father?
Find out these answers by checking out this Jane Eyre-meets Water for Elephants novel. Although written for teens, it is fun for adults, too.