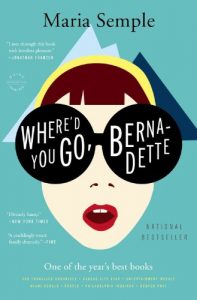 I picked this book to read because Maria Semple wrote it. What's so special about Maria Semple, you ask? Well, she is a co-writer for the television series Arrested Development.  Pretty much my whole family thinks it is one of the smartest and wittiest TV shows written.
Now, about the book: once I picked it up, I couldn't put it down. If you think Arrested Development is smart and witty, you will not be disappointed with Where'd You Go, Bernadette.  It makes you want to keep reading to find out what is going to happen next. Extremely funny and entertaining, it is written through short e-mails, faxes, and different types of reports compiled by a fifteen-year-old, Bee, to tell the story of her misunderstood mother, Bernadette.  So instead of wanting to finish a chapter, you get to finish reading a short e-mail, and then, of course, you want to read the response to the email, etc.
Bee is the only character in the book that you continuously like. She is extremely loyal to her mother and, at fifteen, smart and of her own mind.  All of the rest of the characters have you loving them, and then questioning your understanding of them, hating them, and then loving them again.