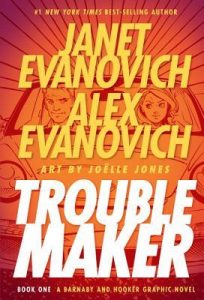 Alex Barnaby and Sam Hooker meet again in Janet Evanovich's debut graphic novel, Troublemaker. Alex and Sam just seem to attract trouble – not to mention a crew of voodoo worshipers, kidnappers, and drug dealers. For those of us old enough to remember the TV show Miami Vice, this is a sweet trip down memory lane. OK – in Miami it's an alligator-infested swamp but who cares?
This crime-fighting duo fits the traditional mold, although the female character, Alex, is the more dominant one. Sam is the laid-back NASCAR driver for the Metro Motor Oil team. His divorced mother is a cougar on the prowl which gives Sam no end of embarrassment…
This graphic novel was a great 10-minute read. It was like watching a YouTube video gone viral. Once I understood that the text bubbles could go up and down as well as left to right, it was a whole new world!