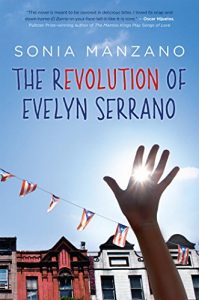 Evelyn Serrano, a wide-eyed teen growing up in a Puerto Rican barrio of Harlem, is looking for independence from her parents and her neighborhood's ubiquitous cultural heritage. Everywhere she goes folks call out her too common given name of Rosa,annoying and frustrating her. As a result, she looks for things that can make her life slightly different from the status quo. Rosa starts by changing her name to Evelyn, her middle name. She also refuses to work at her parents' bodega, instead choosing the five-and-dime a few blocks away.
Her colorful grandmother comes to stay in the summer of 1969, and from Abuela, Evelyn learns about her national history and political struggles of their recent past. At the same time, tension is rising in the barrio as The Young Lords arrive to make some changes. They are misunderstood as something like hippie gang members, a brand new type of neighbor, definitely causing a lot of friction. They end up helping clean the streets, feeding and entertaining neighborhood youth, and holding clothing exchanges mainly through a heated takeover of church space.
This book is a heartwarming read for budding activists or their parents. We learn about strained but hopeful mother-daughter relations and the importance of involvement in one's own neighborhood. This book has the potential to give impetus to youth interested in improving their communities. If you were to change something about your own neighborhood, where would you start? What's holding you back?