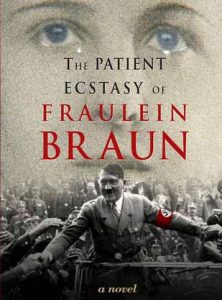 Imagine yourself hiding in an underground bunker with your lover and future husband. Does this sound like the perfect honeymoon? Only if you're Eva Braun and Adolf Hitler!
Eva narrates Mueller's novel as though it were a diary – full of everyday thoughts, fears, and sexual encounters with the Fuhrer – think Fifty Shades of Grey meets Nazi Germany. It's not all Edelweiss however. Eva believes she literally does not exist except through Hitler.
The Patient Ecstasy of Fraülein Braun is a good read but utterly sad in the realization that Eva is the architect of her own destruction.