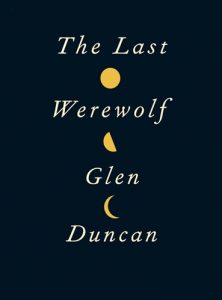 The World Organisation for the Control of Occult Phenomena has hunted and killed all but one of the world's werewolves, Jacob Marlowe, and it is hot on his trail. But here's the thing: the brooding Marlowe doesn't want to go on living. As a result this book is one part thrilling chase, one part delightful look inside the smart but messed-up mind of an incredibly compelling character.
If you've been avoiding books about werewolves, vampires and zombies, here's your chance to get on board. Intelligent and well-written, more Mary Shelley's Frankenstein than Stephanie Meyer's Twilight, this is a refreshingly literary take on the monster genre. Fans of the genre should find plenty to like, too.
Be ready for strong language and adult content and keep a dictionary handy. If you don't know the meaning of the word lycanthropy, you will soon.