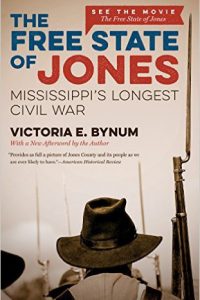 Do you think the only Civil War was between the Union and the Confederacy?  If so, then you haven't been to Jones County, Mississippi!
From fall 1863 to mid-1864, Newton Knight and his band of deserters battled the Confederate cavalry from their hideout in the Piney Woods of southeast Mississippi.  Declaring their loyalty to the Union, the Knight Company waged a guerrilla war against the Confederacy. Newton Knight and his men successfully removed all Confederate soldiers from Jones County and proclaimed it the "Free State of Jones".
Victoria Bynum's work is a scholarly attempt to correct misconceptions regarding this period in Southern United States history. Her work explains the reasons behind the revolt of poor white farmers against the Confederacy. The Free State of Jones also reveals the hidden links between slavery, gender roles and the politics of the rural South.
Read the book and then see the movie Free State of Jones starring Matthew McConaughey!