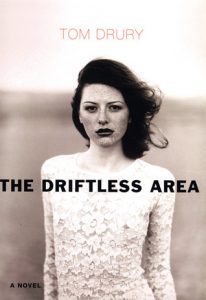 What is the role of destiny in a directionless life? Are chance meetings – moments that define lifetimes – as random as they appear? For Pierre Hunter, protagonist of Tom Drury's Driftless Area, these questions arise with the compelling lucidity of a dream. On a drunken New Year's Eve, he toasts to new beginnings with a strange old man. On a clear, cold day, he is saved from drowning by a mysterious young woman. At the end of a hitchhiking trip, close to home, 'greedy for miles', he crosses paths with a bitter, violent thief. At first, the bright line that connects these three events is as invisible to Pierre as the geology that shaped the 'Driftless Area', a plateau in the Upper Midwest untouched by glaciation, and in Drury's novel seemingly untouched by time. Before he understands the connections between these moments, Pierre will become deeply involved in a story of greed, loss, and supernatural justice.
Tom Drury narrates Driftless Area with a curious voice – somnolent, somber, and infrequently sober. His characters fit their roles neatly – small town staples like the aging sports star, the laconic sheriff, and the self-doubting preacher. Pierre alternates between frustrating passivity and flashes of courage, adding interest as a flawed hero or knight-errant. The characters never become fully realized – least of all Stella, Pierre's savior, love interest, and avenging angel – but the novel's dream logic incorporates these roughly sketched figures and makes them feel quite natural.
Driftless Area's dust jacket describes it as "neo-noir", and the fatalism of the tale sells that best. In a later chapter, Pierre describes a certain character's rescue as "something that wasn't going to happen any other way", that "maybe the future's like someplace we've never been, like Sydney, Australia – but we wouldn't say it hasn't happened yet just because we haven't been there." With its mix of small-town life, flawed heroes, and deterministic violence, Driftless Area is most likely to find an appreciative audience among fans of McCarthy's No Country for Old Men. Readers with a background in Chandler or Hammett's more morally ambiguous short fiction may also enjoy the ride.