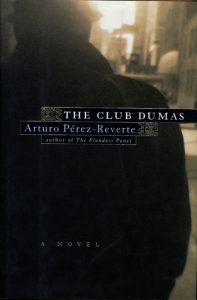 The thin line between passion and obsession has always been ripe ground for storytelling. In the noirish, suspenseful The Club Dumas, dark, obsessive love erupts into violence and murder – not over a man or woman, but for some very rare books.
Lucas Corso is a rare book dealer of the first order – savvy, professional, and more than a little mercenary. He's paid handsomely to hunt books for wealthy collectors, but he's never had a job quite like this one: A client wants Corso to prove that a book is a forgery because it failed to summon the Devil. So begins Corso's investigation of the three extant copies of The Nine Doors of the Kingdom of Shadows. The Nine Doors and its printer were swept up in the fires of the Inquisition amid rumors that the book had a particularly infamous coauthor. At the same time, another collector's suicide leaves Corso with a rare prize – a manuscript copy of a chapter from The Three Musketeers. It brings with it the attention of a secret society obsessed with the works of Alexandre Dumas, and possibly a connection to the occult world of The Nine Doors.
The Club Dumas excels at finding suspense in quiet places. Corso's detective work on The Nine Doors is gripping, even though it plays out in sumptuous libraries and dusty conservators' shops. The novel's set pieces and characters feel very cinematic. (It's already been adapted to film in the 1999 Roman Polanski/Johnny Depp project The Ninth Gate.) The book also contains a crash course in the rare book trade and the adventurous world of 19th-century French serial romances, and if you're the kind of reader that sees the joy in that sentence, this is definitely a book for you. It's also available in the original Spanish.
Fans of Steve Berry's Cotton Malone books should find this worth a read. If you're looking for a more literate and downtempo take on Dan Brown, or if you've spent a pleasant afternoon or ten with Umberto Eco, take a chance on The Club Dumas.