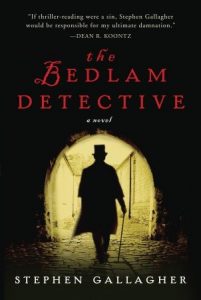 Sebastian Becker – once a police detective and Pinkerton agent – enters the service of the Masters of Lunacy, agents of the Crown tasked with investigating mental illness among Britain's 19th century gentry. He is dispatched to the estate of Sir Owain Lancaster:  eccentric, adventurer, and suspect in the brutal deaths of two local girls. Seeking guilt or madness, Becker must unravel shreds of evidence, local secrets, the mystery of a disastrous Amazon expedition – and the shadowy beasts Sir Owain swears have hounded his steps since that cursed journey.
The Bedlam Detective returns to the world of Gallagher's 2007 Kingdom of Bones with a compelling adventure/mystery plot. The novel shines when its strong setting can sweep the reader along – desolate moors and foggy streets are conventional but effective – the malarial dream of the Amazon is a triumph.
Though Becker is an engaging protagonist, the novel stumbles slightly during subplots on his personal life, and readers may experience mixed feelings at the conclusion. With a blend of the procedural and paranormal, Bedlam Detective should appeal to fans of Victorian mystery and Lovecraftian horror, with strong cross-genre appeal to readers of David Grann's excellent Lost City of Z: a tale of deadly obsession in the Amazon.