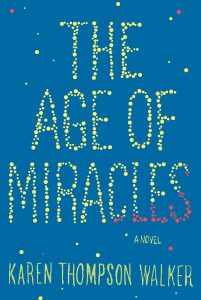 Julia's world is changing and not in the typical way an 11-year-old's does as she learns to navigate the trials of middle school.
The story opens on the day that shocking news broke. The earth's rotation is slowing. Days have become longer. Scientists suspect it will continue. Soon each day's amount of sunlight and darkness deviates drastically from the norm. People, including Julia's mother, begin to stock up on supplies.
In an attempt to keep order, the government advises citizens to stay on clock time to maintain a 24-hour day no matter the location of the sun. Julia's parents abide by "clock time" but not everyone in their neighborhood does. Soon suspicions arise among those that choose to be "real-timers."
Amidst all of this, Julia is dealing with her parents' arguments, her best friend moving away, a school bully, her grandfather's peculiarities, and a boy she has a crush on.
This debut novel chronicling a coming-of-age story among the uncertainty of an environmental crisis will appeal to adults and teens alike.