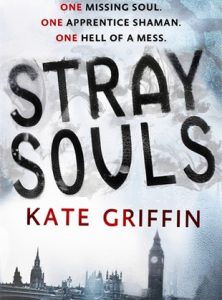 Stray Souls is the first novel in the new Magicals Anonymous paranormal series.  The novel takes place in the same world as the author's previous Matthew Swift tales, but the reader does not have to have read those to understand this story.
Sharon Li, a normal young woman, working as a barista, strangely finds herself a shaman, who has all of the knowledge of London at her fingertips.  To help understand what is happening to her, she forms a self-help group called Magicals Anonymous.  Before the group meets for the second time, Sharon and the group become the only line of defense from an evil force that is literally sucking the souls from London.
The magical characters are varied, clearly portrayed, and surprisingly unique.  Matthew Swift, the Midnight Mayor, plays a role in the novel, but the story is carried by Sharon and her growing tribe of unusual friends, which include a sneezing druid, an art history loving banshee, a culinary critic troll, and her teacher, a shaman goblin.