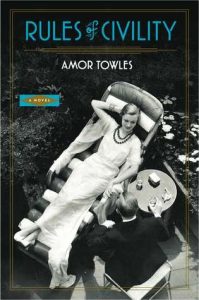 It's New Year's Eve 1937 in New York City.
Katey, the witty narrator, and her roommate, Eve, both in their twenties, find themselves enraptured by a smartly-dressed man who enters the bar. The three quickly form a friendship throughout the following year that takes the women into social circles far beyond their boardinghouse.
The debut novel explores how encounters and choices made in your twenties can have a lasting effect and shape your character in the years to come.
With traces of Fitzgerald's The Great Gatsby – Midwesterners on the East Coast, high society and plenty of gin – and characters with names like Bitsy, Tinker and Peaches, this is a read that brings you back in time and might just make you wish you could stay there.