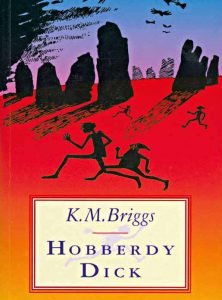 Have you ever asked yourself "What would I do with a PhD in English folklore?" Katharine Briggs found her answer with Hobberdy Dick. After a long and storied career – ranging from writing such scholarly works as the comprehensive Dictionary of British folktales in the English language and The anatomy of Puck, to service as a WAAF medic – Briggs turned to children's literature to share and apply her knowledge.
Hobberdy Dick is a hobgoblin, a fey creature bound to guard and serve an old English manor house. Plague and civil war have driven away the house's ancestral family, and Cromwell's Puritans are striving to stamp out the 'pagan' folkways of the English countryside. Who, then, should buy Dick's manor house, Widford, but a Puritan merchant and his family. Samuel Widdison and his kin are city folk, as disconnected from the traditions and rhythms of country life as could be. The family's early discomforts in Widford (occasionally aggravated by Dick when they tread on his pride as guardian spirit of the house) provide a good deal of gentle humor.
Of course, as the Widdisons – especially the younger generation – begin to appreciate the joys of rural life, Dick begins to embrace his new charges. Through subtle magic, he helps the family tend to the land and navigate their social circle. He cultivates the budding romance between the Widdisons' eldest son and the gentle, though impoverished, orphan daughter of Widford's ancestral family. In moments of startling action scarce in this calmly paced book, Dick even defends his new family against supernatural aggressors. His struggle against the local witch, Mother Darke, makes for a truly memorable scene as the human and fairy casts of the novel strive in parallel courses to save a kidnapped child.
With romance, comedy, and a rich helping of folklore, Hobberdy Dick is a charming taste of another era in English life and in children's literature. Many natural read-alikes for this title can be found in the children's historic collection at the W. Clarke Swanson Branch, but the mix of English manor life and strong touch of the supernatural should be appealing to fans of L.M. Boston's Green Knowe series. The right kind of Tolkien fan should find charm in this novel's joyful love of English folk traditions. It might be a bit of a stretch, but readers with a soft spot for Joan Aiken's Wolves of Willoughby Chase may enjoy a quick read through Hobberdy Dick.