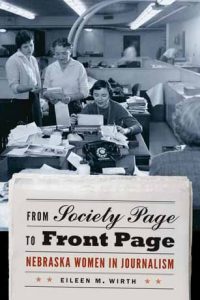 Remember the famous quote "Those who forget the past are condemned to repeat it"? Thankfully, we have Creighton University Professor Eileen Wirth's new book to help prevent that from happening!
From Society Page to Front Page chronicles the impact women reporters had on local and national history. Willa Cather got her start in journalism at the Nebraska State Journal. From 1883-1889, Clara Bewick Colby published the Woman's Tribune, the official publication of the U.S. Suffragist Movement, in Beatrice, NE. Ninette Beaver achieved fame covering the Starkweather trial. Mildred Brown became a leading African American journalist and publisher of the Omaha Star.
These are only a few of the unsung heroines of Nebraska journalism. Without their work as agents of change, we would be a lesser society. Eileen Wirth's book is a treasure not to be missed by lovers of history, journalism or civil rights.