Established by Congress in 2001 to encourage people to explore their ancestry, October is National Family History Month. Omaha Public Library has several resources to help family historians at all levels of experience!
For those eager to get started or perhaps those who have hit a road block in their research, OPL's 9th Annual Genealogy Lock-In on Friday, Oct. 6, is a great opportunity to learn more about OPL's resources and work with local genealogy pros. OPL and the Greater Omaha Genealogical Society will have staff on hand to help participants open the doors to their past by discovering genealogical treasures in OPL's collection and online. For more information about the lock-in, read OPL's news release.
OPL patron Scott Barnes recently began researching his family's history on Ancestry.com. When he found questions that couldn't be answered online, he ended up at the W. Dale Clark Main Library, which houses a dedicated Genealogy Room, as well as a Nebraska Reference Collection and a large collection of government documents dating back to the 1800s.
Barnes wanted to verify the birth and death records for some family members who lived in Omaha. Main Library staff directed him to the appropriate city and county records and, after three to four hours of searching, he came across some familiar names.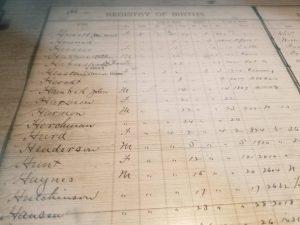 "What surprised me was the feeling that I had when I found those names," Barnes said. "It wasn't just the excitement in locating the one name I was looking for after browsing hundreds of pages and thousands of names, it was the connection that I felt to those names. It showed me what it was all about, that it's not just a research paper that I'm working on but a piece of me, of who I am and where I come from."
Whether you're just starting to fill out your family tree or your search requires more obscure records, OPL staff can assist you through the process of tracking down the information you seek. Wherever you are in the process, librarian Martha Grenzeback says that the best way to delve into OPL's many resources is first talking to a reference librarian. 
"We love helping people explore their family history," Grenzeback says. "Bring whatever you know, preferably in written form, and we'll help direct you to the best resources for your search."
Resources:
Digital genealogy resources: OPL offers several online resources to assist your genealogical searches. Ancestry Library Edition (available for use only at OPL locations), FamilySearch and MyHeritage each give you access to genealogical records including birth, marriage, death and military records. Digital archives of the Omaha World-Herald and Omaha Star are also available.
Read current and past issues of Family Tree Magazine through RBdigital:

opens a new window

 Family Tree Magazine will help point the way toward the best research tools and practices to trace your family's history. Each issue includes tips on locating, collecting, and preserving photos, letters, diaries, church and government records, and other documentation, plus fun articles about creating scrapbooks, organizing family reunions, and vacation ideas that combine history with leisure!
Enroll in the free, six-week Genealogy Basics course through Gale Courses:

opens a new window

 This course is great for those just getting started with genealogical research. Led by instructor Bob Moyer, the course will help you discover "where to look, who to contact, and how to make your family history come alive." The next session begins Oct. 18, so enroll today - all you need is your Omaha Public Library card!
Books, movies and more: A search for genealogy in OPL's catalog turns up over 5,000 results! We've got reads for researchers of all experience levels, including Genealogy Online for Dummies

opens a new window

, Organize Your Genealogy and Advanced Genealogy Research Techniques.

opens a new window

 Place a hold on the title best suited for you today.