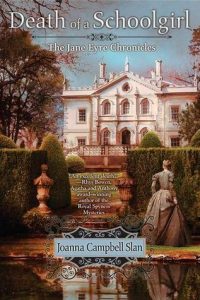 Set in Victorian England, Death of a Schoolgirl takes up right where Charlotte Bronte left off! Jane is married to her "ruined hero" Mr. Edward Rochester and has an infant son. Adele Varens, Mr. Rochester's ward, is safely away at boarding school – or is she??
Adele manages to smuggle out a mysterious letter before her classmate is murdered. Who committed such a heinous crime? Jane resumes her governess persona in order to investigate. Her curiosity, compassion and fearlessness when protecting those less fortunate make her the perfect detective.
Joanna Campbell-Slan is spot-on with her characters and descriptions of poverty in 1850's England. This is a must-read for any historical mystery lover. Charlotte Bronte would be so proud!