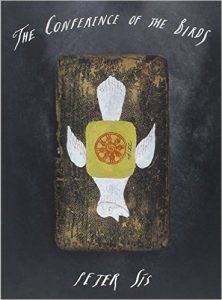 Peter Sís takes up his brush to illustrate one of the best-known works of Persian mystic poetry. Spare text and lavish imagery combine to tell the fable of thirty birds who travel endlessly in search of their mythical king, the great Simurgh, only to find him in the journey and in themselves.
Conference takes illustration to a transcendent level. Readers with an interest in contemporary or classical mysticism should find this title quite rewarding.
Fans of Sís' prior work – his autobiographical The Wall, Jose Saramago's Tale of the Unknown Island, or the Caldecott Honor Tibet: through the Red Box – would be well-advised to read Conference immediately.