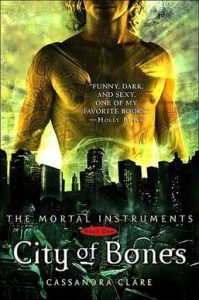 Twilight fans rejoice! There is finally a worthy successor in Cassandra Clare's City of Bones.
Clarissa "Clary" Fray is your average American teen – until the night she sees a blue-haired demon killed by a trio of blade-wielding Shadowhunters from another dimension.  Clary soon learns she has the unique ability to see beyond the glamor that Downworlders, fugitive demons, use to disguise themselves. Drawn into the endless conflict when her Mom is attacked by a demon, Clary discovers some hard truths about herself and her family.
City of Bones is a fast-paced thriller with plenty of teen angst and the proverbial love-triangle. Clary has a backbone and a fine sense of humor which make her an admirable heroine. Plot twists and well-developed characters make this a great beginning to the Mortal Instruments series.  The movie premieres in August with Lily Collins and Jamie Campbell Bower in the title roles.  Let's hope that the movie is half as good as the book!