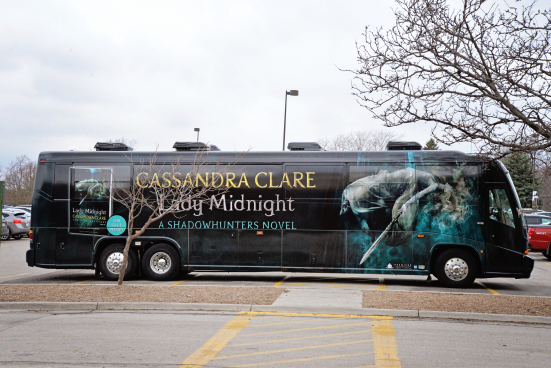 2016 is the year of bestselling author visits for Omaha, Nebraska. John Grishamopens a new window will visit on April 21 as the first speaker in the University of Nebraska Omaha's Marion Marsh Brown Lecture Series. Stephen Kingopens a new window  will follow with a visit to Omaha in June. These world-renowned author visits kicked off in March, however, with the arrival of Cassandra Clareopens a new window. As the author of the New York Times #1 bestselling Shadowhunter seriesopens a new window, which includes four trilogies, Clare is a well-known name in young adult, fantasy literature.
On March 13, Clare attended an event hosted by Omaha Public Libraryopens a new window and The Bookwormopens a new window at Westside Middle School. She is currently on tour with Sarah Rees Brennanopens a new window and Holly Blackopens a new window to promote her newest novel, Lady Midnightopens a new window. The trio of authors pulled up in a bus beautifully illustrated with cover art from the book. A crowd of more than 500 (mostly) teenage girls went wild as they entered the auditorium. Clare is a fan favorite for more than just the fantasy world she's built… Many teens find her especially relatable because of her inclusive writing of LGBTQ characters.
After introducing Lady Midnight, Clare answered dozens of pre-submitted and crowd-sourced questions. Here are some of the juiciest tidbits in case you missed the event. Many fans were understandably upset by the deaths of some of their favorite characters, so Clare lightheartedly fielded several queries into the darker nature of authorial murder.
Question: Why did you kill off certain people?

Clare: Ideally the character's death should have some sort of meaning to the plot; the meaning needs to affect the other characters and the theme of the book.

Question: How did you come up with the Clockwork Princessopens a new window ending?

Clare: I wanted to tell a story about love and death – Tessa being immortal and her two boys not. What does it mean to be immortal, how hard is it to love someone death can touch?

Question: Why do you like to hurt me?

Clare: I just like it! I like high stakes emotional problems, it's how I process… it's a form of therapy. Catharsis, purging yourself through art.

Question: Are Magnus and Alec coming back… we love them!?!

Clare: Yes, they're featured in The Dark Artifices trilogy!

Question: Why are LGBTQ characters so important to you?

Clare: I wanted to represent people not typically written about in YA fantasy lit.

Question: What inspires you to write?

Clare: Everyone processes the world in different ways, this is how writers process their emotions.
Omaha Public Library is incredibly grateful to Clare, Black, and Rees Brennan for stopping by Omaha on their tour. We hope they felt all of the #fangirl love our city has to give, and that more authors will consider Omaha as a future destination!